Cleanings of Oil/Gas/Wood Heating System & Fireplaces:
Certified Chimney offers full repair and maintenance and cleaning of your fireplace and chimney. Charles can have your fireplace running at peak efficiency.
Chimney Flues
Charles can restore or install your chimney flue and repair any liner problems.
Gas Violations Corrected
Charles can fix and repair any gas violation you may have received. My repairs always pass inspection.
Level 1, 2 & 3 Safety Inspections by NFPA
Charles will make sure your fireplace and chimney will comply with all NFPA safety standards.
Custom & Standard Sized Caps with Lifetime Guarantee
Charles can install a cap on any chimney from standard to custom sizes. Caps are available in Stainless Steel or Copper, with Lifetime Guarantee.
Liners Installed
UL LISTED Stainless Steel with Lifetime Guarantee.
Fireplace Draft Problems Corrected
Charles can correct any draft problem you may be experiencing.
Water Leaks Repaired
I will find the leak and repair it fast. So that there will not be any more damaged caused to your chimney or home.
Waterproofing
Water can damage your chimney by leaking through the bricks. I can waterproof your chimney to make sure this does not happen.
All Phases of Masonry Work
I am an expert brick mason. I can repair any type of chimney brick work.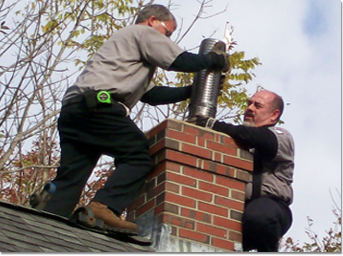 Dampers Installed - Lymance, Spyder, Locktop
Certified Chimney can install and repair your dampers. This will improve your chimney's efficiency and save you money.
Prefab Housing Installed
I am an expert at prefab housing installations
Class A Chimneys & B-Vent Installed
Certified chimney can install all class A and class B Chimney vents.
Blockages Removed
No matter what is blocking your chimney. Certified Chimney will identify it and remove it without causing damage to your chimney or fireplace.